Carcross/Tagish First Nation finds strength in economic development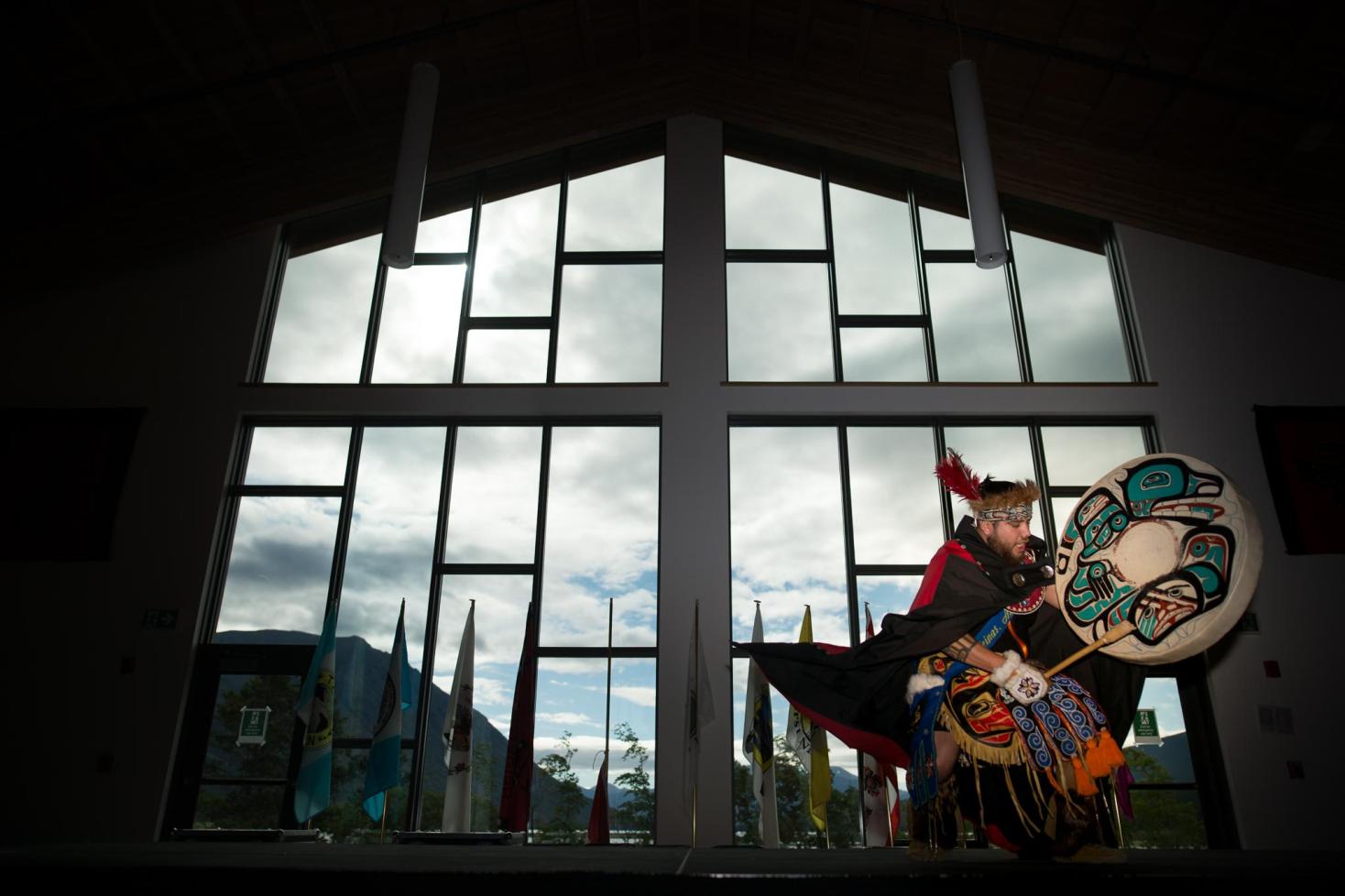 The Carcross/Tagish First Nation infuses its values into everything it takes part in.
Self-determination shines through in the brightly painted Carcross Commons retail village that brings visitors to the community. Culture is lived and shared in the Carving Shed that is part of the Commons. Empowerment infuses the Tiny Homes project that teaches life and carpentry skills to Citizens.
The Carcross/Tagish First Nation and their economic development arm, the Carcross Tagish Management Corporation, have been bringing opportunities to their Citizens and building vibrant community spaces that bring people together.
The Carcross/Tagish First Nations peoples are descended from the Tagish people and the Tlingit from Alaska. The C/TFN clans: Dak'laweidí and Yanÿeidí (Wolf moiety), and Deisheetaan, Gaanaxteidí, Ishkahittaan and Kookhittaan (of the Crow moiety) make up a system that promote strong values such as honour and respect.
Building Understanding through Vibrant Community Spaces
In the Carcross Commons, totem poles show visitors the pride and culture of the community. Shops and restaurants sell Tlingit art and give visitors and locals a place to spend the day. The Commons is a place for the community and visitors to share experiences and build understanding.
"When you get here and see the activity going on, you might want to stay and spend some time…there's a cultural aspect. You're not just learning about First Nations in a textbook…it's an exchange," 
Carcross/Tagish First Nation's Constitution -- ratified in 1997 and created through the Final Agreement -- lays out the First Nation's mission "to protect the environment, health and wellness, education and aboriginal rights of our Citizens; to continue to preserve and protect our culture, traditions, and language; to protect and develop our natural resources and strengthen our economy and the Carcross/Tagish First Nation Government for our future generations."
Working for the future generations comes naturally to Artist Keith Wolfe Smarch and his son Aaron who helped carve four totem poles for the Carcross Commons and are working on totem poles for the Carcross/Tagish First Nation Learning Centre.
Inside the Carcross/Tagish First Nation carving shed, Wolfe Smarch points out a historic black and white photograph of prominent community members dressed in Tlingit regalia, posing for a photo during a potlatch.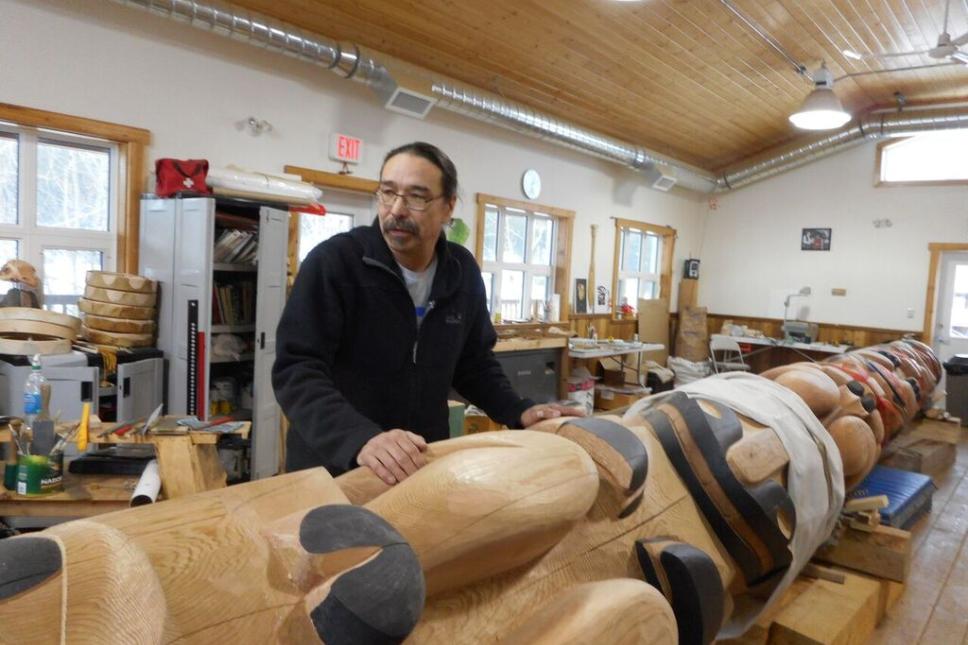 It's this strong connection to culture that keeps Wolfe Smarch going – he finds artistic inspiration in the long-ago potlatches that took place in Carcross, which, despite being deemed illegal from 1884 to 1951, have carried on.
Wolfe Smarch remembers the first pole raised at the Commons: the Welcome Figure, welcoming all visitors to the area.
"You can see in the summer, the Commons is busy. The art is what attracts people. Tlingit culture is really visual and these poles tell our stories," 
The Commons not only instills pride in the Carcross/Tagish First Nation, but also offers a space to learn about the community. The carving shed itself was built in 2009 in partnership with the territorial and federal governments.
Wolfe Smarch says the goal at the carving shed is to preserve and carry on Carcross/Tagish First Nation stories and culture as well as teach people traditional skills.
"This is one of our old stories from right here in Carcross – It's about animal mother. She created all the animals right in the middle of Carcross in between four valleys," he adds, about one of the poles that will go outside of the Learning Centre. There will be nine poles in total at the Learning Center -- a story pole and six clan poles. The animal mother story is important to the First Nation, Wolfe Smarch says, because she created all of the animals.
"I see it as keeping the stories alive…all of these poles, I'm not doing this for us, these are for the little kids that are coming up now, and they are going to grow up seeing this stuff and growing up with it," Wolfe Smarch says.
Sharing stories, both the good and bad, is important to Derek Grose too. It's important to "tell that story to visitors in a way that they can connect with and understand we've lost a lot of culture." The Commons helps to revitalize that lost culture. It "creates opportunities where people can work with each other and there is a sense of identity, of sharing with each other," he says.
Building a better future through Tiny Homes  
Carcross/Tagish First Nation Citizen Angie Low learned carpentry and life skills when she worked on the Tiny Homes project.
"In the tiny homes we did it all," she says.
As a result of the Tiny Homes project, 15 students became carpentry apprentices, learning trades and life skills while building homes for the community.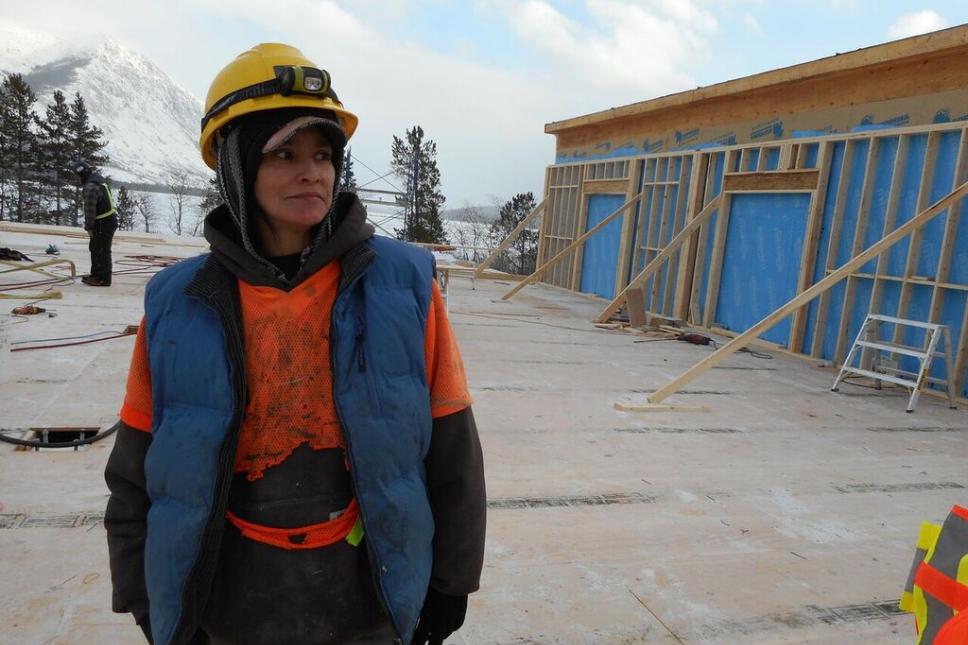 After her experience with Tiny Homes, Angie Low felt inspired.
 And the skills learned on the job are carrying forward to other projects – such as the Learning Centre where she now works. Low says she wants to see more Carcross/Tagish First Nation Citizens get involved in projects. "That's why I do it, I just try to encourage people…it's meaningful to me."
The Tiny Homes model was hugely important as it created a sustainable model that provides employment for Citizens where they learn and apply new skills, says Nelson Lepine, Managing Director of the Carcross Tagish Management Corporation, who was the lead on the Tiny Homes project and now the Learning Centre.
Eleven of 15 Citizens who worked on the Tiny Homes went on to work on the Learning Centre, and were able to carry forward and apply the knowledge gained.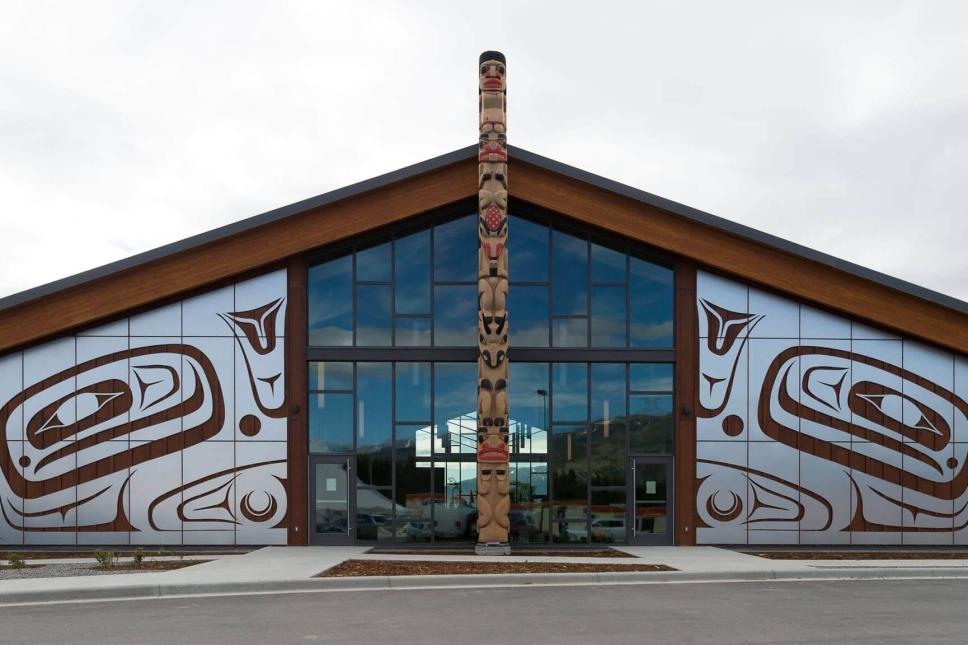 "Whenever you're working on an economic development venture, you need to bring your people with you," Nelson Lepine, Managing Director of the Carcross Tagish Management Corporation.
Carcross/Tagish First Nation weaves its vision and its values into all the work it does. Sustainability and consensus-based decision-making should always be at the forefront.